Mount Rinjani
Mount Rinjani in Lombok, a 3,726 m high active volcano, is one of the highest mountains of Indonesia. The mountain and its satellites form the Rinjani National Park. Rinjani erupted three times in 2010 with ash rising up to two km into the atmosphere. For the people of Lombok, Sasak as Balinese, the volcano is a sacred place and abode of gods. The crater lake is the destination of thousands of pilgrims who offer sacrifices in the water.
Mount Rinjani is the recommended choice for hikers. Rinjani offers adventure and great scenery. You can visit waterfalls, caves and hot springs. And the fauna changes from tropical rainforest at the beginning of your trek, to European like forests in the middle that change to alpine flora above the tree line. Here hikers will even see the Eternal Flower or Edelweiss, which must not be taken.
However, Mount Rinjani is not an easy trekking tour. See our info-box and have a safe journey.

Mount Rinjani can be accessed via Senaru or via Sembalung. Sembalun Lawang is a traditional village set in an ancient caldera to the east of Mount Rinjani. This is the preferred starting point for summiteers. Senaru is an 2.5 hours' drive away from Mataram and Senggigi. This is the main access to the Rinjani National Park. The Rinjani Trek Centre is located here, offering ecotourism activities, and visitor information.

Be aware the Rinjani National Park might be closed during the rainy season from December to March due to bad weather and landslides. In addition, access to some sections of the Mountain might be closed due to volcanic activities of Rinjani.
Things to do at Mt Rinjani
On the mountain several caves can be visited. The Susu Cave is a good place for self-reflection and is often used as a place to meditate.

Healing hot springs can be visited on the way to Crater Lake. They are used by locals to treat all kinds of diseases.
Travel to Mt Rinjani
For climbing the mountain it is highly recommended to hire a local guide. You can choose various trekking packages include the guide to meet your individual need. Please visit the page of Rinjani Trekking Club or Green Rinjani Trekking & contact them personally to plan your trekking with profesional arrangement.

Lombok itself can be reached via Bandara International Airport. From the airport you can go by bus to Mataram or Senggigi beach. The trip to Mataram from Mandalika Bus Terminal costs Rp 15,000 and Rp 25,000 to Senggigi. The bus departs every 1.5 hours.

By sea Lombok can be reached by ferry departing from Bali - Padang Bai every two hours, the trip takes 4 hours and costs Rp.25.000 for foot passengers.
The luxury alternative is the Mabua Express catamaran from Bali - Pelbuhan Benoa. This trip takes only 2.5 hours, but costs about Rp. 300.000.
Perama offers maybe the most complete travel service by sea. The company connects bus services between the tourist centers in Bali and Lombok with a boat service between the two islands. And the Pelni cruise ships connect Lombok with many other islands of Indonesia.
Stay at Mt Rinjani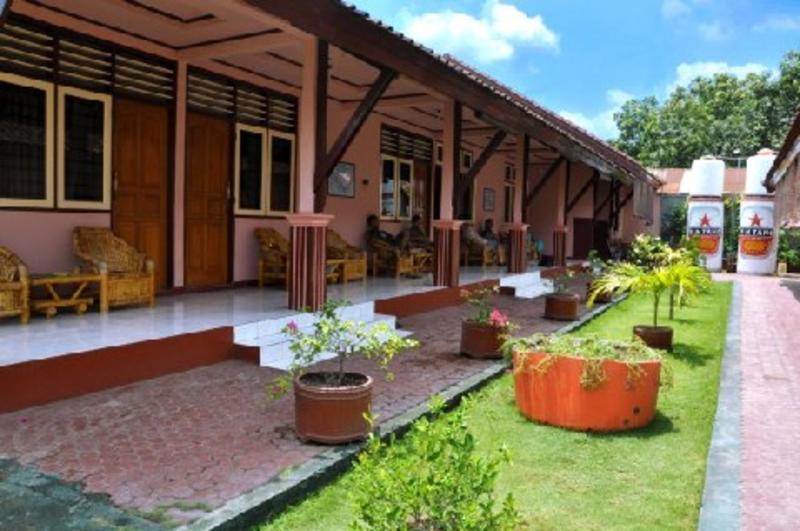 Losmen Tjabe Merah
A small family-owned losmen that provides the holidays you want. The limited amount of rooms means a select number of guests will enjoy all the service and attention. You'll be pleasantly surprised by the quality of accommodation at such a reasonable price.
from $5 p/n
Pondok Senaru Cottages
Pondok Senaru Cottages offers sweeping views of Mount Rinjani and the surrounding valley. It features simply furnished rooms with terrace and an on-site restaurant serving local and international dishes. Pondok Senaru Cottages has a tour desk, where guests can make arrangements for activities such as hiking trips.
from $25 p/n